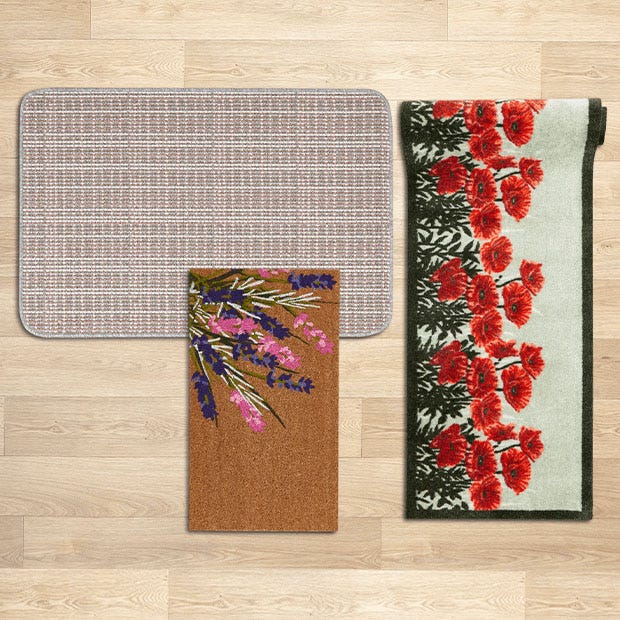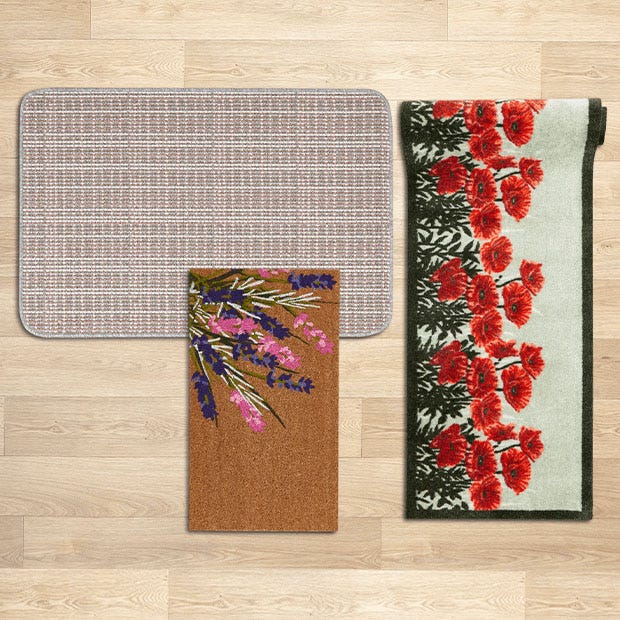 Rugs and runners are the perfect addition to brighten, add warmth or texture to any room.
With a variety available online, it's difficult to decide which rug would be best suited to your home. We've put together a guide to ensure the addition to your room is the right one.
The type of rug you buy can depending on many factors; your style, the room , design and size. Whether you are placing the rug in the kitchen, bedroom or living area with a variety that suits all your needs.
Our runners are the perfect accessory for more pratical reasons, whether placed in your kitchen or hallway. The narrow design of our runners with slip resistant bottom are both the sensible and stylish addition to your home. With a variety of colours, lengths and prints you have a number to choose from and most come with matching free doormat too!
If you are after something to brighten up a living area or bedroom we have a range of more decorative and statement rugs to put around your home. From our luxury wool Shensi rugs or Dandelion prints rug you have a range of sizes, prints and styles to choose from. Adding a pop of colour and warmth to rooms around your home.
Wool
The obvious choice if you are after a rug with warmth and softness. A resilient material that can recover quickly from the weight of footprints and furniture. The natural DNA of wool means that natural occurring oils within fibres ensure it maintains fresh for longer period of time. Wool is a hard wearing fibre - great for a family home where spills and stains may occur, again its natural oils mean that it is resistent to stains. Wool rugs maybe a slightly more expensive option however they have great longevity and versatility to last and be loved within your home.

Synthetic
Affordable and hard wearing, synthetic rugs are the perfect option for a busy home. Man-made materials look the same as Wool and Natural fibres but for half the price with vibrant colours and durable construction. Not only can synthetic rugs be used inside but the fibres used to create these is so durable and resistant to sun light means that they can be used outdoors too. Materials such as Nylon and Polypropelene makes them super easy to clean and maintain colour and freshness against water and mildew. Long lasting and easy to care for what more can you ask for?
How do i lay my rug?
Within the first 24 hours of purchasing your rug you should roll it out and leave in a warm room this will give the material chance to breathe and therefore reducing the chance of wrinkles and curling before used. Once you have decided on a location in your home, place an anti-slip mat discreetly underneath your rug to ensure it stays in your desired place.

What is the best routine of easy care to make my rug last?
Being a larger item in your home it can be quite difficult to know how to care for your rug. By vacuuming regularly can keep on top of any dirt that may gather, be sure not to rotate vacuum as this can cause piling. A gentle approach on cleaning is the best. If you have spilt anything on your rug- be sure to blot with a white cloth rubbing soiled area may cause damage to the fibres. One rule we must stress is to always follow care instructions provided on your purchase. And one last thing - turn your rug/regularly to ensure even wear and reduce pressure marks and avoid prolonged sun exposure.

What is the best way to remove stains from my rug?
There is quite a few ways to remove stains depending on whether yu have a wool or synthetic rug. If you rug is synthetic you maybe able to blot with cold water and vaccum gentle. But luckily if you rug is made of nylon you can wash at 30 degrees in your washing machine. However do not use bleach, do not iron or tumble dry. If your chosen rug is wool it is expected for some loss of fibres, however if you have got a stain or spill on your rug you can seek professional help if you are unsure. Again you can blot with cold water and vacuum with the hand brush or nozzle function to reduce any damage.