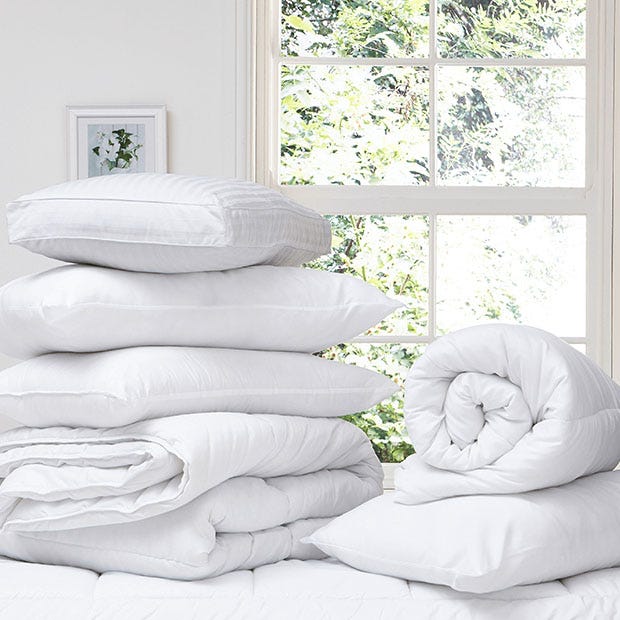 Pillow & Duvet Buying & Care Guide
The perfect night's sleep depends on a number of factors, such as sleeping position, room temperature, and the amount of time you have available.
What can really make the difference however, are the filled goods that you use.
Discovering the type of filling you need in pillows and duvets can fully depend on the position you sleep in — as crazy as it seems. Your sleeping position can alter the quality of your sleep, so having the correct filling or product style can really help you get the best possible night's sleep.

If you sleep on your back
If you tend to sleep on your back during the night, it is crucial that your pillow can support the natural curves of your spine to maintain ultimate comfort. You will need between one or two deep pillows to ensure that your back relaxes through the night. Having a deeply set soft pillow style is therefore perfect for when you're sleeping on your back.

If you sleep on your side
If you prefer to sleep on your side, a pillow which supports the head and neck is required. This is so the spine maintains as straight and naturally horizontal position throughout the night. A pillow that is both thick and firm is needed for sleeping on your side.

If you sleep on your front
When sleeping on your front, your pillow needs to be a low style, so it is almost flat. This is to reduce the strain on your neck and head from sleeping in this position. To try and maintain your natural alignment, it could be worthwhile adding an additional pillow under your pelvis to keep that natural line. A flat, soft fibre pillow is perfect for this position as it reduces the strain on your body.
Memory foam
Memory foam offers a more personalised sleeping experience, tailoring its fit to suit your sleeping style and the position of your head and neck. Offering overall support and comfort by moulding to the shape of your body, it will revert back to its original shape when not in use. A hypoallergenic material, memory foam is the perfect option for people who have allergies.
Hollowfibre
A medium density pillow made from synthetic materials like polyester, hollowfibre products trap air within them, creating a warm and cosy environment to sleep in. Mite and allergy resistant, hollowfibre products have a great reputation for being able to suit most people. They are also very popular in the UK for value, comfort and care, and are normally made with a cotton slip over and can last up to two years.
Duck feather & down
Having a feather and down mix filling can have real longevity, as they are comprised of a tougher filling so that they naturally have a longer life span. Feathers, which can normally poke through and be quite an uncomfortable texture, are combined with a down in order to create a soft filling to ensure you get the sleep you deserve. Easy to shape and mould, they are durable for long periods of time. However, they are not suitable for individuals with allergies.
Do i need to purchase a mattress protector?
We recommend purchasing mattress protectors whenever you invest in a new mattress as a precaution for general wear and tear. Not only this, but they can reduce allergens and are known for keeping that 'new' feeling for longer. You can see our Mattress Protectors here.

How do you care for a mattress protector?
You need to regularly shake and rotate your mattress toppers and also pull back your bedding every morning to allow your bed fibres to breathe. You can wash your toppers normally, but be sure to always follow any instructions provided.

Can you wash synthetic pillows at home?
Many cotton, synthetic, or down pillows can be washed in the comfort of your own home, however we advise to follow any instructions provided. Check whether a detergent can be used on your pillows, and if they can be cleaned within a washing machine, place your pillow within a pillowcase to prevent snagging and wash on a gentle cycle. They can also take a while to dry, so ensure that they are near plenty of ventilation if they cannot be dried within a tumble dryer.
How can i make my duvet last longer?
Duvets and filled products tend to get neglected, as we wash our bedding regularly but forget about the filling inside. Always check the care label to see how it can be cleaned. Duvets normally can last up to five years, so during this time, cleaning them every three months is a good trick for making them last longer. We recommend that if your item fits into your machine, use a gentle cycle with a normal spin setting and ensure that once washed, you have aired and dried it thoroughly before use.